The Therapist
Michelle S Krause LMT


Michelle started her career in massage after being forced to retire from the fire department from an injury. She was informed in 2005, by a neurosurgeon, that she would be a quadraplegic within 3 years without neck fusion on C4-6 vertebrae after an injury caused the discs to herniate. Since the surgery can not be reversed and the symptoms were intermittent, a second opinion of Dr Ducker (one of the best neurosugeons on the East Coast) and the chiropractor recommended against the surgery until she exhausted other means. Starting with the homeopathic route she began to add Bikram yoga and opted to focus and document any improvement to try and avoid the surgery and heal naturally.

Michelle began to get massages, continued with chiropractic care and couldn't stop asking questions regarding the symptoms and the root causes of the symptoms. At the suggestion of her chiropractor, she started on a path to learn how to treat numerous old injuries on her own. She had been convinced by a previous chiropractor that her headaches and back pain from a 20 year old car accident were to be a part of her life. It became apparent through being diligent with her health care and asking questions was paying off and she was seeing significant improvement. She began training for a marathon and regular workouts. The MRIs showed the the herniations were healing and that her scoliosis was correcting (from the car accident over a decade prior). Upon review of her medical records, the state would still not risk her to return to work due to a "high risk" since one of the doctors had 'required' surgery to be the only means to repair the injury, she needed to seek a new career path. Her chiropractor suggested something in the holistic field since she had had such great success with her own health and had become such a great advocate for herself and others with spinal damage and health issues.

In 2006, she started practicing massage. Through consistent work and education, her C4-6 herniations and scoliosis in her lower back have now all been corrected.

Michelle has a passion for working with chronic medical issues, chronic pain and injuries. She loves to work with the client and help them to understand what the origin of the symptoms are to be sure that they are able to advocate for themselves and to get to the healthcare provider that works best for them. She is driven by the desire to empower her clients to attain a permanent life style change to ensure that they can sustain a path of the best health and wellness possible.

Currently, she is enrolled in a doctorate program to receive her Alternative Medicine and Holistic Healing degree to continue to seek out the most information to benefit her patients and assist them in resourcing for their health.
Michelle also holds certificates in personal training (Xcelerated Fitness-Scott Goldberg owner*) and nutrition. If you are interested in a permanent weight loss nutrition education program click here (there is a discount code on the home page) or call with further questions and assistance.
Xcelerated Fitness is a functional fitness facility that is dedicated to helping people achieve their fitness goals. From weight loss and athletic improvements to moving from injury back to good balanced health, Xcelerated Fitness is a great fit for you. Offering private, semiprivate, group sessions and outside of the gym workouts, they have programs and hours to fit your needs.
In March 2019, Xcelerated Fitness and Vital Harmony Therapeutic Massage will be merging to for Vital Fitness Holistic Center and have services offered together for your convenience.
Michelle received the Best Massage Therapist of the Year award for 2018 voted on from her community.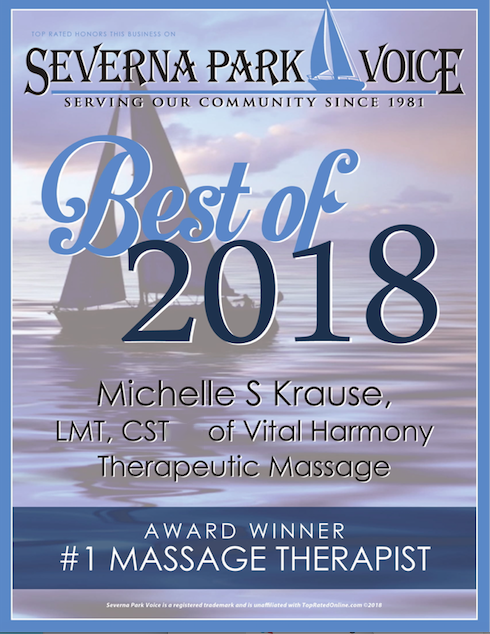 Here are a few of Michelle's clients reactions after their treatments-
"She has the hands of an angel. As soon as she started to work on me I could feel the positive energy through my body. Her awareness, without me even telling her, of my trouble areas was right on. As a Yogi Master and previous massage therapist she is extremely knowledgable and definately has found her calling."
Bikram Choudhury-
-CEO of Bikram Yoga
-retired massage therapist
"I had severe neck pain for over ten years that led to constant headaches. It made everyday life almost unbearable. I even tried pain meds which left me groggy, then the cortisone shots (which just lasted a short while and you can only do so much of) and then chiropractic care. The chiropractor introduced me to Michelle and along with the chiropractic care, it was just what I needed! The chiro helped with the bones and Michelle helped keep the muscles relaxed for the perfect balance. I havne't been to a doctor about much since. I have made the combination a constant in my life! I go monthly and I have barely even had a cold since!"
Stephanie Bell
-Real Estate Agent
-Mother of 3
For more testimonials click this Vital Harmony Therapeutic Massage Facebook business link